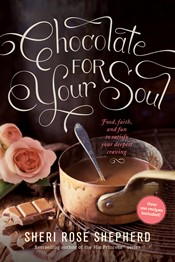 Chocolate for Your Soul
Come taste and see that the Lord is good—and discover your faith can become a fulfilling adventure.
Life can be hard, but God gives us everyday gifts—food, faith, and fun—to satisfy and refresh us in whatever we face. These gifts are like chocolate for our soul, and oh, how wonderful they taste!
Too many times we are so focused on what we are not allowed to do and eat that we end up feeling deprived and depressed, as if following Christ were more of a burden that a blessing. It's time to let go of guilt, grab hold of grace, and recapture the life God craves for you. In Chocolate for Your Soul, bestselling author and speaker Sheri Rose Shepherd encourages you to embark on a new adventure with faith and food. She reveals the food coaching tips that enabled her to lose more than 50 pounds and keep them off. She also shares recipes in celebration of the healthy, delicious food our God created for us to enjoy. (Originally published as If You Have a Craving, I Have a Cure)